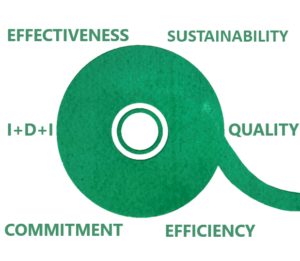 -EFFECTIVENESS: Nowadays we are living a fast change period, this puts to tests the capacity of answer, the capacity of taking advantage and the adaptation of the emergent opportunities. In NUMA we know how to measure and adjust the focus of the action, we do it depending on the values of all the interests groups of the company, including the Shareholders.
We constantly train the employers because they are the receptors and the actors of the change. Only by this way we can control and take advantage of the transformation, and the result is achieving the organizational efficiency.
-SUSTAINABILITY: In NUMA we assume the nature and the environment are not an inexhaustible resource, and that's why it is necessary the protection and the rational use of it. Our principal aim is to achieve the global wellness of the present and the future generations, and to stop the bad consequences of the global warming by the manufacture of geomembranes for environment uses, civil works, factories, irrigation canals, etc.
-QUALITY: A low quality product, it is never sustainable. If something makes the difference between us and the rest of competitors is the high quality of our products. It is a reality the big satisfaction of our customers and they are the ones who positions us the leaders of the geomembranes manufacturers. Our secret for achieve the best quality is the application of a novel productive process and the careful choice of the raw material.
-EFFICIENCY: In NUMA we all consider that our company complies with the aim of effiency for the following reasons we carry out:
-We take into account the customers and the employers.
-We promote an interaction and confidence model with the constituents of the organization because they are the motor of the company.
-We achieve the commitment of the people.
-We guarantee an efficiency design of the organization and our roles, the collaboration and the talent management.
-COMMITMENT: Our company connect the work environment with the rational and the emotional level, by a search of mutual benefits between organization-employer through a proactive attitude for both parts to keep the quality of this relationship in a long period.
Also, we are committed to act with what our customers need to because we locate them in the centre of our organization, promoting a centred culture with a commitment with the customer and the aim of discovering, creating and provide values.
-I+D+I: They are the three fundamental pillars to keep our company leader in the sector. We have an specific and exclusive department for the investigation, development and innovation.